Been long since I have posted anything on health & wellness. Here are some good tips for good health. Follow them & incorporate healthy living in your lifestyle. My favorite ones have been put in bold.
Drink at least 10 glasses of water a day.
Include two vegetables, one fruit & raw vegetable salad in your meal.
Start the day with a glass of warm water and a dash of lime. Do it for a month or two, take a break for a month and start again.
Use only fresh vegetables.
Once a week have only fresh fruits until noon, make lunch the first meal of the day.
Eat only freshly cooked meals, not refrigerated leftovers.
Go on a juice fast for a day. Start with vegetable juice, and sip fruit for lunch and dinner..
Kick the old coffee habit. Have a glass of fresh fruit juice instead.
Cut out all deep-fried foods from your diet.
Cut down on high sugar products like soft drinks, ice-cream, candy and cookies in your diet. Avoid sugar as much as you can. 78 Reasons to avoid sugar.
Avoid beverages like soda, coffee, colas and so on.
Include high fiber foods and plenty of fruits, vegetables and grains in planning your diet.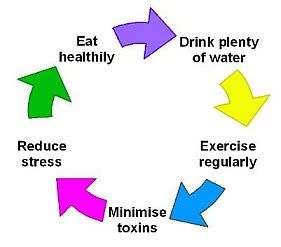 Use salt in moderation.
Don't rush through your meals. Set aside enough time to appreciate, enjoy and digest your food.
Eat popcorn (rather than chips) while watching a movie.
Eat while you eat.
Eat just to the point of the fullness. Don't stuff yourself!
Stop smoking.
Restrict alcohol consumption.
Get a good night's sleep, every night.
Take a brisk, 20 minute invigorating walk each morning.
Spend 10 minutes every morning and evening doing basic stretches.
Do not use elevators when you can climb the stairs.
Focus on your breathing. Take a deep breath, then exhale slowly. Repeat a couple of times a day.
Learn to relax. Spend 20 minutes consciously relaxing each muscle of your body. .
Learn the healing power of laughter. Watch a crazy movie, recall a joke or read a funny book, laugh out loud.
Balance your lifestyle. Devote equal time each week to work and fun.
Do keep in touch with friends. Call up or visit them and be at peace with the world.
Forgive someone who you think has done you wrong and cleanse your spirit of rancor.
Listen to soothing music for 30 minutes at least each day.
Read good literature. How about a great book once a week.
Nourish your mind with good thoughts. Stop talking negative.
Relish little pleasures of life. Enjoy the moments.